Free shipping home from 50€
tiendaonline@catchalot.es
638 136 045 / L-V 9:00 - 18:00
Free shipping home from 50€
638 136 045 / L-V 9:00 - 18:00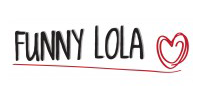 Women shoes Funny Lola
Funny Lola is a brand of women's shoes where the importance of footwear lies not only in its practical and functional nature, but also in the visual and aesthetic part that reflects the personality and identity of who wears it.
Funny Lola shoes are manufactured 100% in Spain, using premium skins and noble materials throughout the manufacturing process.
The collections of Funny Lola are focused mainly on the youngest ones. It is a young and dynamic brand focused on the current woman, a woman with a busy life and who does not stop all day, for this reason, Funny Lola shoes are comfortable, designed for everyday.
Visit our Funny Lola women's shoes section and buy shoes with the Catchalot guarantee!
También te podría interesar:
Contacta por Whatsapp