Free shipping home from 50€
tiendaonline@catchalot.es
638 136 045 / L-V 9:00 - 18:00
Free shipping home from 50€
638 136 045 / L-V 9:00 - 18:00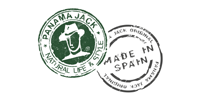 Panama Jack Shoes
Panama Jack is a Spanish shoe brand, handcrafted and lovingly made shoes so that all people can enjoy walking through life every day.
Panama Jack are aimed at authentic people who seek adventure on a daily basis, those who value natural style and want to feel comfortable either in the city or in the mountains.
Carrying Panama Jack is a way of life. The true friend of the brand is the one who is left every day in his adventures.
Panama Jack is a brand made 100% in Spain, from the beginning the entire production process is centralized in Spain. Panama Jack is a high quality product that lasts over time and is extremely comfortable.
Visit our Panama Jack footwear section and buy online with the Catchalot guarantee!
También te podría interesar:
Contacta por Whatsapp