Free shipping home from 50€
tiendaonline@catchalot.es
638 136 045 / L-V 9:00 - 18:00
Free shipping home from 50€
638 136 045 / L-V 9:00 - 18:00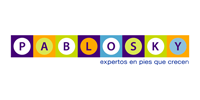 Pablosky Children's Shoes
Pablosky is one of the leading brands of international children's and youth footwear dedicated to the design, manufacture and marketing of children's shoes.
The company was founded in 1969 by the hand of its founder, Juan Pablo Martín-Caro. Today Pablosky has a team of more than 400 long-standing professionals who teach the youngest the secrets of Pablosky's quality.
Each year Pablosky produces more than 2 million pairs of shoes for children, made in Spain. And they design more than 1,000 references per season.
Pablosky has its own Pablosky System technology, a very well defined technology: Bovine leather exterior, InTech absorbent inner lining, Heel and toe protector, secant and antibacterial insole, and non-slip rubber sole.
The key to Pablosky's success can be summarized in four points:
They are experts in growing feet.
Manufacturers
The shoes are made in Spain
Creators of the exclusive Pablosky System technology.
Visit our section of Pablosky child shoes and buy online with the Catchalot guarantee!
También te podría interesar:
Contacta por Whatsapp