Free shipping home from 50€
tiendaonline@catchalot.es
638 136 045 / L-V 9:00 - 18:00
Free shipping home from 50€
638 136 045 / L-V 9:00 - 18:00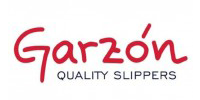 Garzon shoes
Garzón, with a trajectory of more than 25 years and extensive experience in the shoe trade, has been making his footwear since 1987 in Elche, the cradle of footwear, making a quality product by hand following the tradition and knowledge of 2 generations dedicated to the manufacture of footwear to be comfortable at home.
At Garzon, they carefully take care of each and every one of the details involved in their manufacture, from the design and modeling in which creativity and R + D + i are equally important, where current fashion trends are reflected and reinvented. up to the manufacture in which raw materials of first quality are used, emphasizing the new technological materials and ergonomic benefits that provide comfort and comfort to the foot.
The continuous effort and dedication of Garzón, has positioned them as references of vulcanized footwear. Garzón has a wide range of slippers at home with the best value for money on the market,
Visit our Garzon shoes section and buy online with the Catchalot guarantee!
También te podría interesar:
Contacta por Whatsapp