Free shipping home from 50€
tiendaonline@catchalot.es
638 136 045 / L-V 9:00 - 18:00
Free shipping home from 50€
638 136 045 / L-V 9:00 - 18:00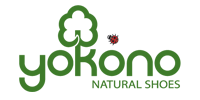 Yokono Shoes
Yokono is a firm that has been producing footwear since 1981 and is a leader in the manufacture of bio type models since then.
From 2011, Yokono faces a change of concept and begins to work and intensify its efforts in design and brand, an internal revolution that has been an impulse that has allowed it to position itself in the national and international footwear market, being present in more than 35 countries.
The trends are advancing at an increasingly vertiginous pace and Yokono is doing it with them. The firm is a reference in design and innovation within the sector. Yokono footwear represents a way to adapt to society for its customers.
Quality and trend go hand in hand in a product designed as a second skin for all its users. Ideal for day to day and for the most personal moments of active people with a philosophy of urban life in which quality is one of the biggest concerns.
Visit our Yokono shoes section and buy online with the Catchalot guarantee!
También te podría interesar:
Contacta por Whatsapp