Free shipping home from 50€
tiendaonline@catchalot.es
638 136 045 / L-V 9:00 - 18:00
Free shipping home from 50€
638 136 045 / L-V 9:00 - 18:00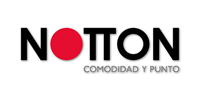 Notton Shoes
Notton is a brand of Spanish footwear was founded in Arnedo (La Rioja) in 1981, currently diversifies its production into three clearly differentiated manufacturing lines.
Vulcanized trekking shoes
Shoes of Lady and Gentleman
Vulcanized safety footwear according to the EN / 345 standard.
From the first steps of the company they have strived to offer footwear where the quality and comfort of their customers prevail. This effort has been rewarded with obtaining the ISO 9001 quality certificate and the ISO 14001 environmental certificate.
Notton use quality raw materials in the manufacture of their shoes, where comfort shoes are prioritized. His Notton comfort shoe collection represents the union of craftsmanship, innovation and design that translates into shoes that you will not be able to resist wearing.
In this collection the classics are reinvented with new colors and materials fusing style and comfort. Both they and they can enjoy the comfort provided by Notton without neglecting the quality and contemporary design.
Visit our Notton shoes section and buy online with the Catchalot guarantee!
También te podría interesar:
Contacta por Whatsapp