Free shipping home from 50€
tiendaonline@catchalot.es
638 136 045 / L-V 9:00 - 18:00
Free shipping home from 50€
638 136 045 / L-V 9:00 - 18:00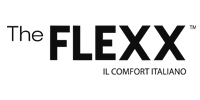 Women's shoes The Flexx
THE FLEXX is an Italian shoe brand, headquartered in the heart of Tuscany, its mission is to give active Women a unique combination of style and everyday comfort.
THE FLEXX IS THE NEW COMFORT AND FASHION ICON. The shoe brand The Flexx is recognized worldwide.
The brand of shoes has great communicative power and vocation for a comfortable lifestyle. Its mission is to anticipate the trends of tomorrow using the experience and knowledge accumulated over the years to create a unique product.
Your brand proposal is experiencing spontaneous growth, thanks to the quality of the product and the service. They want to raise the bar on all fronts: from improving what they are doing well to developing new competitive tools, investing heavily in marketing and retail strategies.
The Flexx women's shoes are not just a combination of their individual pieces, but rather a delicate blend of style, materials, technology and craftsmanship. The Flexx seeks to give a unique combination to all his creations.
Visit our section of The Flexx women's shoes and buy online with the Catchalot guarantee!
También te podría interesar:
Contacta por Whatsapp